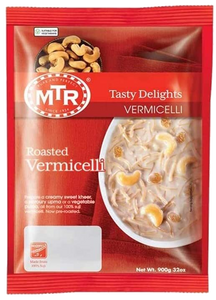 ROASTED VERMICELLI 900g സേമിയ
 Roasted Vermicelli 
വറുത്ത സേമിയ
MTR is one of the best brands in India. MTR now brings you the goodness of Semiya (Vermicelli) to Canada to give you the great taste of Indian dessert. We deliver anywhere in Canada and you can order it online. Now !!!
Best for making Semiya payasam, Semiya Pulao, Semiya pulav, Semia Upma 
You may also like Long Vermicelli.
Also please check out Vermicelli Kheer Mix.
Upma recipie
Heat oil, season with mustard, black gram dhal, Bengal gram, chopped green chili and ginger.Add sliced onion and sauté well. Add 725 ml of water, sliced vegetables (carrot, beans) little salt and cook well. Add roasted 200g vermicelli and cook till done. Garnish with coriander leaves and serve hot.Add grated coconut and lime juice for better taste.
The ROASTED VERMICELLI 900g സേമിയ is the best quality available and we deliver only the best that's why you're drawn to it in the first place.MTR is one of the best in the industry and grocerybasket.ca will deliver it to your home.
Yes! If you are looking for Indian Grocery, Kerala grocery and more, you are at the right place. Check out our other Cooking AidsMisc from MTR too.
Inventory Last Updated: Oct 03, 2023
---
We Also Recommend