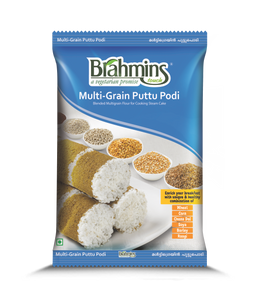 Puttu podi (Multi-Grain) 1Kg
Blended Multigrain Flour for Cooking Steam cake or funnel cake Puttu podi Brahmins touch, a vegetarian promise.
Multi-Grain Puttu podiis a special item for you if you looking to make healthy puttu for your family. 
Brahmins touch believes good food begins with pure, natural, meat-free ingredients. Try it out, you will fall in love with the quality and taste. 
Imagine if you could be satisfied and content with your purchase. That can very much be your reality with the Puttu podi (Multi-Grain) 1Kg. We can assure that you will love Puttu podi (Multi-Grain) 1Kg from one of our most trusted vendors Brahmins Touch.

grocerybasket.ca always deals with the best, just like you.
Check out our other Flour from Brahmins Touch too.
Inventory Last Updated: Oct 03, 2023
---
We Also Recommend