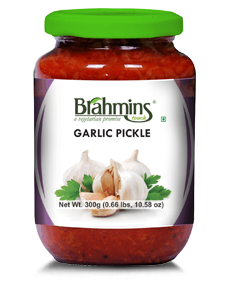 Garlic Pickle 400g വെളുത്തുള്ളി..
വെളുത്തുള്ളി അച്ചാർ  Garlic Pickle Veluthulli Achar
This is a great vegetarian pickle. Garlic is known for it medicinal properties and it is an integral part of Indian cooking. Garlic pickle is great with Rice, Biriyani, Chappathi, Kanji etc. Try it out, you will recommend it to your friends too.
Brahmins touch believes good food begins with pure, natural, meat-free ingredients. Try it out, you will fall in love with the quality and taste. 
You may also like
Brahmin's Kashmiri Chilli Powder 250g.
Brahmin's Chilli Powder 500g.
Every product in grocerybasket.ca is unique, just like you. If you're looking for a product that fits the mold of your life, the Garlic Pickle 400g വെളുത്തുള്ളി.. is for you.
grocerybasket.ca always works with the best in the industry, the Brahmins Touch who brings you Garlic Pickle 400g വെളുത്തുള്ളി.. is someone who you can trust.
Check out our other Pickles and Condiments from Brahmins Touch too.
Inventory Last Updated: Sep 26, 2023
---
We Also Recommend