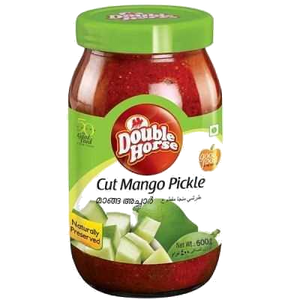 Mango Pickle (Diced) 400g മാങ്ങ അച്ചാർ
Cut Mango Pickle Diced mangoes - 400g Manga Achar
മാങ്ങാ അച്ചാർ 
Double horse presents cut mango pickle, which includes ingredients such as mango pieces, salt, chilli powder, gingelly oil, mustard, fenugreek, ginger, green chilli, synthetic vinegar, asafoetida, turmeric powder.
It has a shelf life of 12 months and for retaining freshness: retain oil layer on top till the contents are over.
Use by spoon only, keep pouch closed after use.
Ingredients :
Mango piece, Salt ,Chilli Powder,Gingelly oil ,Mustard ,Fenugreek, Ginger ,Green chilli ,Synthetic vinegar,Asafoetida,Turmeric powder ,Contains class II preservative Sodium Benzoate
Double Horse Mango Diced pickle is an amazing side dish. The mouthwatering sour taste and the spicy ingredients make it an irresistible item. It is delicious, flavorsome and appetizing. Shop now!
Imagine if you could be satisfied and content with your purchase. That can very much be your reality with the Mango Pickle (Diced) 400g മാങ്ങ അച്ചാർ. We can assure that you will love Mango Pickle (Diced) 400g മാങ്ങ അച്ചാർ from one of our most trusted vendors Double Horse.

grocerybasket.ca always deals with the best, just like you.
Check out our other Pickles and Condiments from Double Horse too.
Inventory Last Updated: Sep 26, 2023
---
We Also Recommend