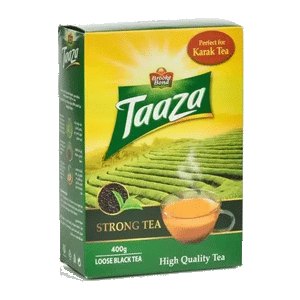 Brooke Bond Taaza Tea 400g
Brooke Bond Taaza Tea 400g Loose Black Tea.
High Quality Tea. There's nothing better than a cup of new Brooke Bond Taaza to refresh & clear your mind. Because only new Brooke Bond Taaza is a tea with High Quality fresh Tea Leaves, packed with the Natural Goodness of Theanine, that helps to clear your mind and enables you to manage the demands of everyday life. Strong processes ensure that the quality remains consistent throughout the year. Taaza makes sure that this phenomenal journey also resonates in every end cup as absolute refreshment! 
The Brooke Bond Taaza Tea 400g is the product you may think you need, but once you have it, something you won't want to live without. You will not regret the $4.49 that you spent on Brooke Bond Taaza Tea 400g. That's an assurance grocerybasket.ca an promise.
Check out our other IndianTea from Brooke Bond too.
Inventory Last Updated: Oct 03, 2023
---
We Also Recommend