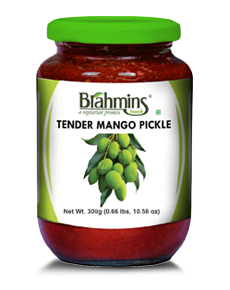 Mango pickle Tender 400g കണ്ണി മാങ്ങാ
Tender Mango pickle Kanni Manga 400g കണ്ണി മാങ്ങാ അച്ചാർ 
If you are from Kerala, then Kanni manga pickle is going to bring back some fond memories. It is a mouth watering pickle. 
Brahmins touch believes good food begins with pure, natural, meat-free ingredients. Try it out, you will fall in love with the quality and taste. 
You may also like
Brahmin's Kashmiri Chilli Powder 250g.
Brahmin's Chilli Powder 500g.
The Mango pickle Tender 400g കണ്ണി മാങ്ങാ is the best quality available and we deliver only the best that's why you're drawn to it in the first place.Brahmins Touch is one of the best in the industry and grocerybasket.ca will deliver it to your home.
Yes! If you are looking for Indian Grocery, Kerala grocery and more, you are at the right place. Check out our other Pickles and Condiments from Brahmins Touch too.
Inventory Last Updated: Oct 03, 2023
---
We Also Recommend