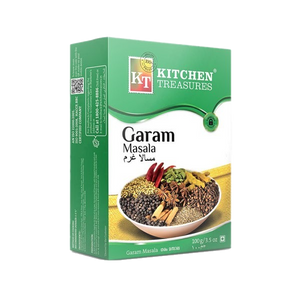 Garam Masala (100g) Kitchen Treasures
Garam Masala from  Kitchen Treasures
ഗരം മസാല 
Kitchen Treasures, one of the most favorite brands in Kerala is now available in Canada, at your doorstep with its best spice mix, the garam masala. The unavoidable ingredient in every Indian dish. Garam masala, a combination of a number of Indian spices, adds great aroma, flavor, taste and spice to all your curries. 
Here is how it is made, whole spices of cinnamon, mace, peppercorns, coriander seeds, cumin seeds, and cardamon pods, star anise etc are toasted in a pan to release their aromatic flavors, then ground to a powder.
You may also like
Brahmin's Kashmiri Chilli Powder 250g.
Brahmin's Chilli Powder 500g.
The Garam Masala (100g) Kitchen Treasures is carefully handpicked and packed for people like you in mind. Something to keep you happy. Every. Single. Day.
Check out our other Cooking AidsCurry Powder (Blended Spices)Instant MixPowdered Spices from Brahmins Touch too.
Inventory Last Updated: Dec 07, 2023
---
We Also Recommend